Immigration Bureau procedures
The "Immigration Control and Refugee Recognition Act" determines the procedures and necessary documentation related to matter of the entry and the departure in Japan, and visa/residence status. To extend your period of stay in Japan, and for various other procedures relating to visa/residence status, you will need to go, in person, to an Immigration Bureau office in the appropriate jurisdiction with all the necessary documents.
Generally, it is necessary for the applicant to go to the Immigration Bureau office in person when submitting any applications related to international students and researchers, or members of their family.
However, for international students who belong to Tottori University (scheduled to attend), various applications are conducted by the Center for International Affairs Division on behalf of students.
Applications on behalf of international students/researchers by the Center for International Affairs and International Affairs Division
Each month, staff members of the Center for International Affairs and International Affairs Division make applications on behalf of (as agents for) international students/researchers.
Note: Sometimes applicants are requested by the Immigration Bureau to submit to an interview or to report to the bureau in person for other reasons.

Persons to which this applies
| No. | Persons |
| --- | --- |
| 1 | International students (students formally accepted by the university) |
| 2 | Foreign researchers (researchers formally accepted by the university) |
| 3 | Spouses and children of persons of category 1 or 2 above (Such persons can obtain only a Certificate of Eligibility if they enter Japan together with the student/researcher.) |
No.

Type of application

1

Application for Certificate of Eligibility

2

Application for Extension of Period of Stay

3

Application for Change of Status of Residence

(Only for a student visa)

4

Application for Permission to Engage in Activity Other than that Permitted under the Status of Residence Previously Granted

5

Application for Re-entry Permit

*
*Foreign nationals in possession of a valid passport and resident card who will be re-entering Japan within 1 year of their departure to continue their activities in Japan will, in principle, not be required to apply for a re-entry permit. But if your period of stay expires within 1 year after your departure, please ensure that you re-entry Japan before the expiration of your period of stay.
Receiving application documents, timing, etc.
Application documents are accepted for a two-day period in the middle of each month.

If any documents are missing or incomplete, a further submission deadline will be set for these.

Academic staff members of the Center for International Affairs and International Affairs Division alternate (month by month) in taking the documents to the Sakaiminato Branch Office of the Immigration Bureau.

Up to about 30 applications can be handled at one time.

The dates on which documents will be taken to the Immigration Bureau will be announced on the Internet.
Procedure flow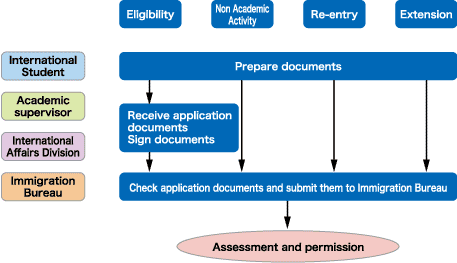 Anyone who engages in illegal behavior-such as staying in Japan beyond the period permitted by their visa, working part-time in violation of visa conditions, and/or working in a sex-related business - will be subject to punishment under the law. Note that if someone works part-time without proper permission, the employer, as an accomplice, will also be subject to severe punishment.
<Notification concerning the organization to which International Students belongs is here>
Tottori Prefecture Immigration Bureau
Name
Address
TEL
Access

Hiroshima Regional Immigration Bureau, Sakaiminato Branch Office

3rd floor, Yonago Airport Bldg., 1634 Sainokami-cho, Sakaiminato-shi, Tottori 684-0055




TEL: 0859-47-3600

0859-47-3600

Website
Useful websites and contacts
| Name | URL | TEL |
| --- | --- | --- |
| Immigration Bureau Information Center | Website | 082-502-6060 (Hiroshima) |
| Immigration Bureau | Website | - |
| Hiroshima Regional Immigration Bureau | Website | - |