National Water Research Center (NWRC), Overseas Office Introduction
Arab Republic of Egypt
Address: Fum Ismailiya Canai, P.O.Box 74, Shbra, El-Kheima 13411, Cairo, Egypt
TEL: +202-4444-6762(6180)
FAX: +202-4444-6761(7846)
URL: https://www.nwrc.gov.eg/
Just as the great historian Herodotus said, "Egypt is the gift of the Nile," without the Nile, Egypt would not exist. Understanding this, the formation of a system that develops and conserves the Nile as a whole is underway. At the core of the Agricultural Department's Dry Land Research Center is the JICA group training course, "The Research and Environmental Assessment of Dry Land Water Resources". NWRC staff who participated in the 2002 course studied abroad in the Agricultural Department from October 2003. Following this exchange, the Center sought a cooperative agreement with the NWRC. In June of 2004, the academic exchange agreement was solidified, and the Overseas Office was established in June of 2007.
Since 2009, training abroad is being conducted at the NWRC in the JICA 's group training program, "Soil in Dry Land Areas, Proper Management and Effective Utilization of Natural Water Resources."
The NWRC, located on the Delta Barrage in the Nile's lower delta, is approximately one hour from Cairo by car. It is possible to catch a taxi or use a bus on a nearby main street; however, due to problems with language and price negotiation, it is recommended that you request a direct ride from NWRC representatives. From the airport, a taxi should cost around E£200 (a little less than ¥5000). A taxi from the city center should cost around E£100 (¥2000).
*As a side note, taxis with TAXI written in black letters on a yellow background have a meter, and price negotiation or being forced to pay illegal prices should not be a problem with these taxis.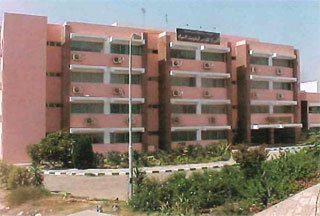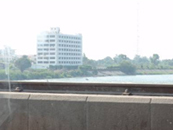 Staying at

NWRC
The lodging section is located just inside the NWRC's entrance, on the left side.

Singles, Doubles, and VIP rooms are available.

Tottori University instructors pay E£50 (¥5000/1 night) for a single room.

The lodging section's maximum capacity is 25 people.

Amenities: Air conditioning, pillow, chair, closet, shower with no bathtub, toilet (unit bath)

The dining hall is directly across from the lodging section, and the Center is in the adjacent building.

The recreational facilities include ping-pong, a pool table, a soccer field, a lounge, and a TV room.
Other Accommodation Arrangements
For a regular hotel, you must go to Cairo. (30 minutes by car)
Hospital
There is a clinic about five minutes drive from the NWRC. However, this clinic is not state-of-the-art.

For a general hospital, it is necessary to go to Cairo (approximately 40 minutes).

The NWRC is able to call their affiliated doctor quickly, and a car is always on stand-by.
Tottori Office
The Tottori Office is located in NWRC's northernmost office building on the fourth floor. The Tottori Office is adjacent to the office of NWRC's representative, Professor Gawith. Along with the instruction technology room, the Office takes up half of the room. The size of the space is about 3.82m×3.82m.
Amenities: Computer (No Japanese Language Entry, internet connection), desk, chair, book shelves, air conditioning, (including the following technology tools) FAX, photocopier, telephone