平成26年度 農学研究科入学 ゲラウ キンディエ エッバブ: エチオピア 
Short Report for KYOTO Study Tour
Contents of the Report
Introduction to Kyoto

Objectives of the tour

Organization and time management during the tour

Visited historic sites in Kyoto

Main lessons learned from the tour

General comments for the future

Acknowledgments
Introduction
Kyoto is located in the central part of the island of Honshu, Japan at 35°0′42″N and 135°46′6″E. It is far about 363.7 km from Tokyo (Capital city of Japan) and 149.44 km from Tottori. It has a population close to 1.5 million. Kyoto City takes up 17.9% of the land in the prefecture with an area of 827.9 square kilometers (319.7 sq. mile). Kyoto has become more famous in the world after the Kyoto Protocol to the United Nations Framework Convention on climate change (UNFCC) held at Kyoto in 1997.

Kyoto is the former capital city of Japan, famous worldwide for its temples and shrines. It became the capital of Japan in the 8th century and flourished as the center for Japanese politics, economy and culture for some 1,100 years, until the capital functions were transferred to Tokyo in the mid-19th century. There remain many temples and shrines in Kyoto that were built during this long period. Seventeen historic sites including, Kiyomizu-dera Temple and Nijo Castle, are inscribed as World Cultural Heritage Sites. In addition to historical sites, festivals in Kyoto are famous not only in Japan, but are also known worldwide. The three major festivals of Kyoto are the Aoi-matsuri festival in early summer, the Gion-matsuri festival in mid-summer and the Jidai-matsuri festival in fall.
Objectives of the study tour





This study tour has been organized by International Affairs Division (IAD), Tottori University, targeting of the following objectives:
To introduce cultural and historical sites for international students

To refresh students (us) during vacation time

To make the opportunity to foreign students visiting Kyoto (one of the historical city in Japan) before leaving Tottori university

To be able to share some best experiences for foreign students

To enable us to improve worldwide cultural, spiritual and economical understanding

To better understand the temporal and spatial change in technology and way of life ( the past, the present and the future scenarios)
Organization and Time Management During the Tour





General orientation, given in advance as a seminar, contributed to effective and better use of the allocated time for each course. All of us could arrived on time at appointed places and every course has been accomplished as per the schedule. I can say that time has not been wasted during the tour. Even in the Bus during Journey, we used our time for some educational games and communications. In general all plans and objectives of the tour were succeeded according to the designed schedule or time frame.




Visited Historic Sites in Kyoto
Day One:
By the first day, all groups together visited two fascinating historical sites (Kiyomizu–dera and Kinkaku ji Tamples) as indicated in the figures below. At Kiyomizu-dera temple, everyone was very impressed with the temple itself, the surrounding landscape, materials accompanied the temples and the number of visitors. Whereas the gold painted temple at Kinkakuji was more attractive and amazing for most of us (Figure1). We had a good and educative stay at Utano Yoth Hosttel, at this hostle we had a comfortable accommodation including food. During that night we had an interesting game or play recreation that taught us how to deliver information correctly (without distortion) from one source to another.
(a)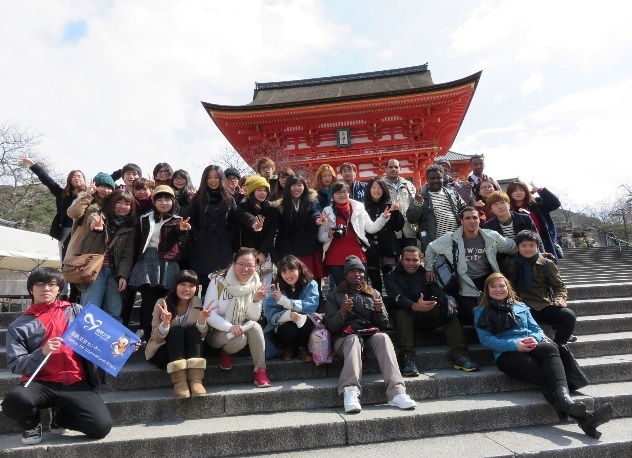 (b)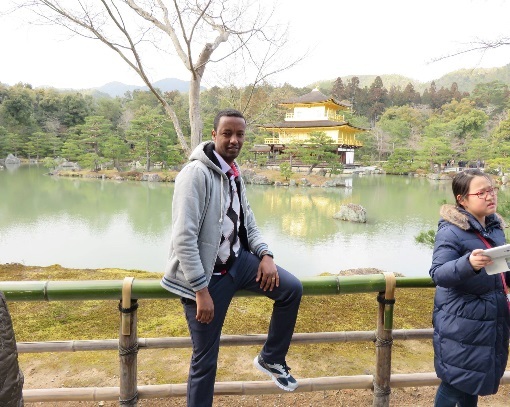 (c)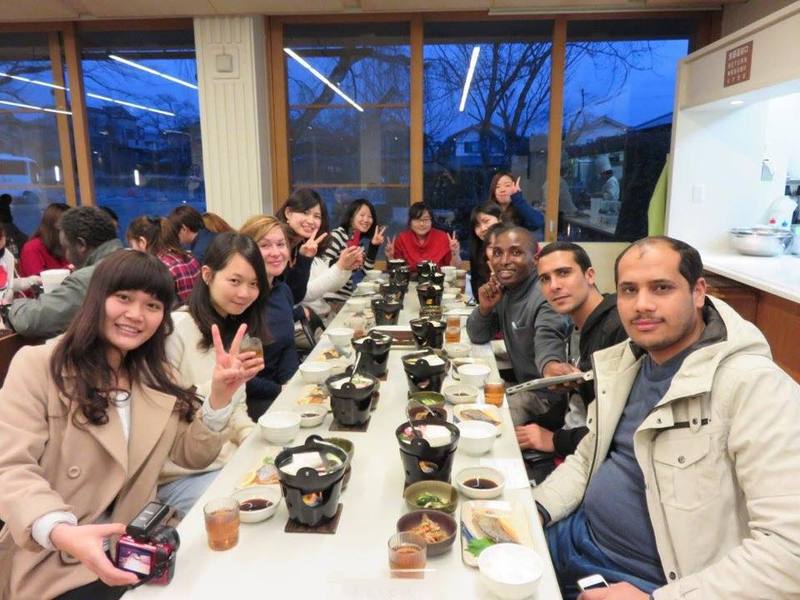 (d)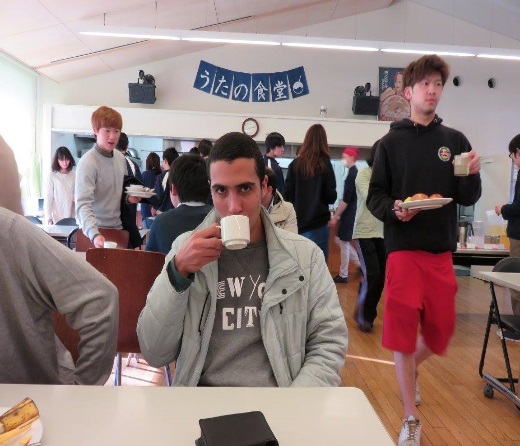 Figure1: A whole group Visit at Kiyomizu – dera Temple (a), Kinkaku ji Temple (b), and Utano Hostel for diner (c) and breakfast (d) invitation.

Day Two: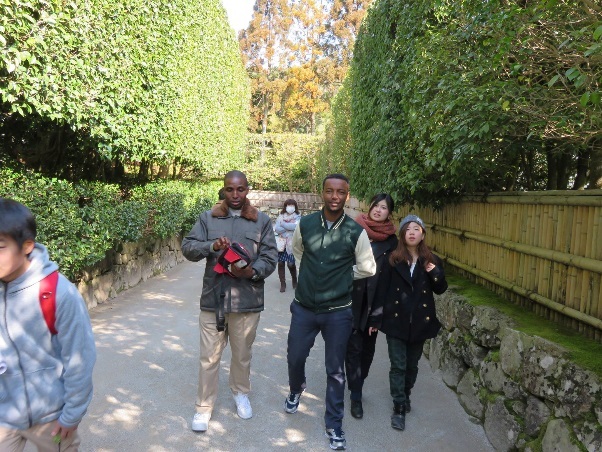 By the next day (day two), we were divided in to five small groups and each group went to their respective selected places. For our group selected places were Ginkaku ji Tample (figure left) and Sensu folding fan (Figure right).
Figure 2: Small group visit at Ginkaku ji temple fence (left), and drawing and/or painting on folding fan at Sensu (right).
After completing small group courses, we had also a whole group visit at Sanjusanben-do Temple. At this site we visited a variety of statues which are representative of different religious aspects of ancient Indian people. It was the final and very wonderful historical place visited during our study tour in Kyoto (figure 3).
(a)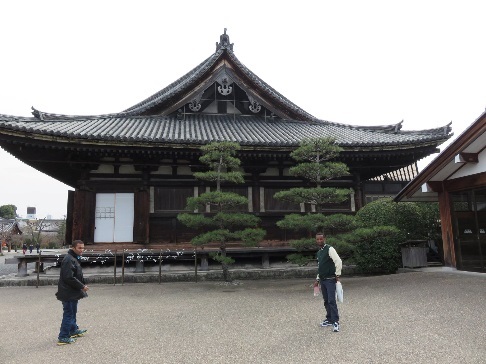 (b)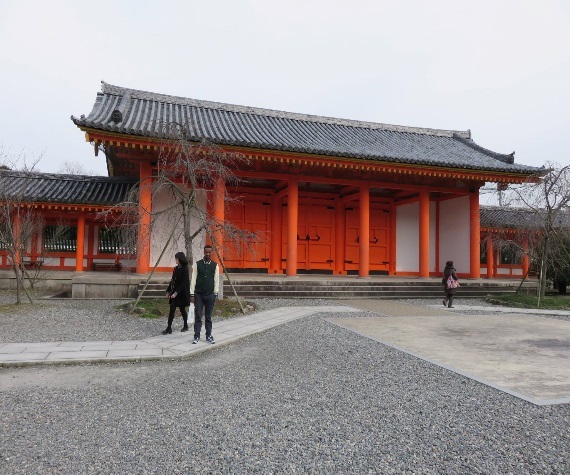 Figure 3: House of statues (a) and an attractive colorful gates (b) at Sanjusangen-do Temple
From this tour I personally learned the following tips:
The best approach to organize and manage group courses. It was really helpful to handle students with diversified interest and background.

Efficient time management skill for better achievement of a certain task.

The way how to teach and transfer important messages to a group via fun

Materials required for long study tour. It was the first time for me to have such kind of study tour and I realized that materials like camera and preserved food items are important.

The need of responsibility and punctuality in doing some tasks in groups and how to lead a group.
General Comments





Over all my feelings are positive, nevertheless I have some feedbacks for improvement to the future.




Regarding lunch time: During our study tour, it was difficult to find the place where food was available for lunch on the first day. It took time for most of us. Therefore it would be better to arrange lunch place in advance.




Oral Explanation: A short on-site oral explanation about visited sites would be needed for better understanding and unforgettable memory.
Ultimately I would like to forward my great thanks to:

Japanese Government: for giving me a chance of scholarship to join Tottori university.

Tottori University: I appreciated Tottori University for accepting me as international student and for timely completion of course works. It made me to use the opportunity of visiting Kyoto.

International Affairs Division (IAD): I highly appreciated IAD staff from the bottom of my heart not only for organizing and managing Kyoto study tour but also for everything they did in relation to other issues. The IAD workers are the potential role model for my future working life.

Japanese Students: Local Students assigned as assistant of the tour deserved great thanks for their dedication in caring us with many aspects.

Utano Youth Hostle: Thanks to this Hostel for comfortable accommodation and provision of delicious food

Kyoto society: Thanks to ancient Kyoto people for constracting such an interesting historical sites and current generation for maintaining historical sites and honest hospitality.

Driver: Finally I would like to acknowledge the driver for his safe driving and politeness from the very beginning to the end of the tour.



              すべての ために ありがとうございました!!