Would you like to walk around Tottori City and get in touch with the history ?
for international students
公開日: 2021-11-15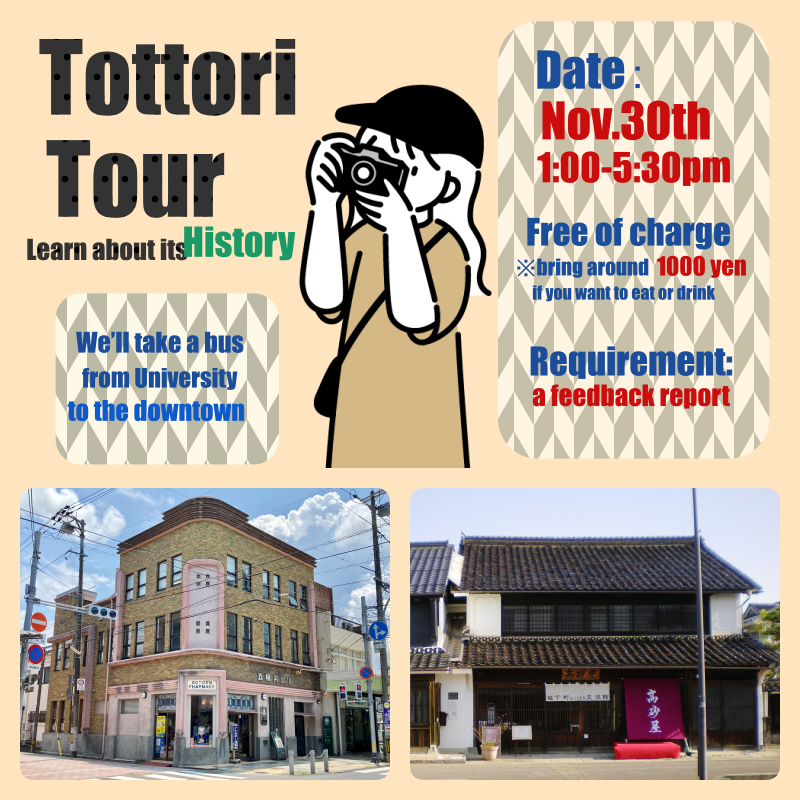 The Center for International Affairs will hold an event to walk around Tottori city
so that international students can learn and get in touch about the culture and history of Tottori.
This event is a rare opportunity to visit and touch some of the most historically famous places in Tottori City with detailed explanations.
G-Frenz members will support you, so even if you are an international student who does not understand Japanese, please do not worry about participating.
Schedule: Tuesday, November 30 at 1:00pm to around 5:30pm
Visiting spots:
 ① Takasagoya (Registered tangible cultural property)
http://www.tbz.or.jp/takasagoya/
 ②Gozouen building (Tangible cultural properties)
https://archwindow.blog.fc2.com/blog-entry-1214.html
 ③Visiting traditional stores in Tottori City
*We will meet at Koyama campus and move by bus.
Participation Fee: If you want to eat or drink, please bring cash around 1000yen
Applicants: 15 (First-come and first-served basis.)
Requirements: Submit a report (impression) after participation
How to apply
 Application:https://www.ciatu.tottori-u.ac.jp/online-application/Nakjima2021-11
 Deadline:Monday, November 22.