Accommodation for international students and researchers
Tottori U. International House
Tottori U. International House
4-110 Koyama-cho Nishi, Tottori-shi 680-0947 JAPAN
Tel: 0857-28-4808 (Monday - Friday 9am -7:30pm)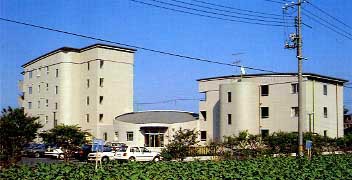 Accomodation fee
(monthly)
Common facilities fee
(monthly)
Cleaning cost
(once when you move in)
Deposit
(once when you move in)
Single room(A)
5,000 yen
2,000 yen
9,800 yen
10,000 yen
Single room(B)
6,000 yen
2,000 yen
10,300 yen
10,000 yen
Double-occupancy room
12,000 yen 
2,000 yen 
18,600 yen 
20,000 yen
Triple-occupancy room
15,000 yen
2,000 yen
27,800 yen
30,000 yen
*There is no Futon, pillow and bed linen, so please prepare them by yourself.
*The accommodation fee doesn't include electricity, water and gas.
*The common facilities fee includes internet connection fee.
*If there is no damage when you move out, we will return the deposit.

Tottori University has established its "International House" as a facility designed principally to provide accommodation for newly arrived international students. The facility, located about 15 minutes (walking distance) from the campus, features a 5-story reinforced concrete building (single occupancy units) and a 3-story reinforced concrete building (units for couples and families). Generally speaking, occupancy periods are between one month and one year for students and between 14 days and one year for researchers.

Shirahama (2) Residence
Accommodation Fees
Payment period
Type of expense
Amount
Meter reading date
The month you move in
end of month
Cleaning
9,300 yen/person
-
Deposit
10,000 yen /person
Monthly
by 28th
Room cost
(share with 2 people) 2,679 yen /person (single or family) 5,358 yen
common facilities
2,000 yen/person
end of month
Electricity
According to usage
13th
by 5th of following month
Gas
15th
Every two months
by end of month

Water
Start of month
Residents' association
850 yen/person